Ananta Mandal – About the Artist: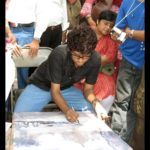 I have spent five years with Ananta Mandal in Govt. College of Art & Craft Kolkata as classmate. He is not only a very charming friend also a up-growing artist from India. He straggled all alone with experimentation on his painting style.
As a good friend I have experienced the journey of his life as a painter till today. In his work he captured rain-soaked city as well as seascape with watercolor, acrylic and oil color. As Mithun Pramanik from Kolkata said "The artist who has always been miles away from limelight will be a special feast to the eyes of art lover".
To see some superb drawing by the artist Visit:
[www.anantamandal.in] or [http://anantamandal.blogspot.com]
Photograph © 2008 copyright Ananta Mandal