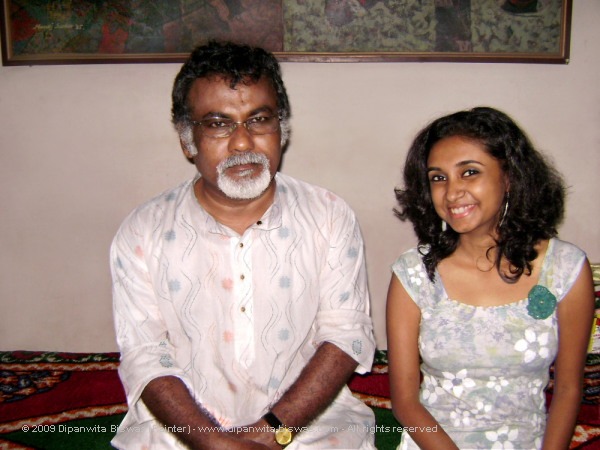 I can remember very well the time when I was ready to do anything to enter an Art College. I only knew that I have a gift and a dream but didn't know the way. But I was lucky . In that tough time I found a great teacher like Manoj Sarkar.
I clearly remember the first day I met him. He is of lower average height with an athletic build and a stony expression on his face. His sharp eyes shows intelligence and a touching soul.
He was always a topper at his academics and achieved many national and international awards. But never seen him to show off his success. He believes in simple living and high thinking.
When he teaches, he doesn't say much. I mean side talks. But he will say a simple thing which will be enough. I used to meet him with a bunch of sketches and watercolor composition after every one or two weeks. He used to look at those works very carefully. Then he guided me about few things which helped me to do better next time. When it was about a 'tree study' he used to tell me to look at their characteristics, not only the color of the tree. And if it is like coloring an object he taught me to see several other colors in it, which reflects from surroundings.
He treats me like his daughter. His door is always wide open for all the students for any kind of help. Though I am out of college now, I still feel like visit him or make a call. In front of him I always feel that my training is not complete yet. I wont be able to repay him for what I have learnt from him.
Once he told me to be like a deep pond. So that if anyone throws a stone there will be a few ripple which will gradually vanish in a few moment and the stone will go deep inside. And the pond will be the same as before.
He has struggled a lot for every bit of his success in life, but we have never seen that on his face. He is a man who wrote his own destiny by honesty, hard work and dedication.
BORN: 2nd January, 1952
EDUCATIONAL QUALIFICATION :
1. Stood First in H.S .Exam, Board of Secondary Education,W.B.-1969.
2. Obtained First class with Distinction in T. T .Art App. course, C.U. 1974.
3. First class First in 5 years Diploma Final Exam.in Painting -1974, Government College of Art & Craft, Calcutta,
4. First class First in 2 years Post.Dip final Exam. 1976, Government College of Art & Craft, Calcutta.
SCHOLARSHIP & AWARDS:
* National – Awarded National Talent Scholarship for 5 years – 1970 – 74, Govt. of India.
National Cultural Scholarship in painting by Govt. of India for 3 years-1975-78.
* Abroad – Awarded Italian Govt. Scholarship in painting in Italy, 1978-79.
* Awarded 4 times in G.C.A.C. annual exhibitions – 1972 – 76.
* A.N Tagore Memorial medal, Society of Oriental art All India Annual exhibition,-76
* Academy Award by State academy of D.D.M.& Fine arts, 1978.
* 'Academy award' by Academy of Fine arts in All India Annual Exhibition,1988
EXHIBITIONS :
* Exhibited in more than 100 important Group / Public or Solo shows in State level
* National level in India and a few in abroad like – Gallery De Sistina, Rome
* Plazza Del Comune, Perugia, Gallery Pan Arte, Florence in Italy, India House
* London, Hegue, Holland, Bangladesh etc. since 1972.
WORKSHOPS / CAMPS /SEMINARS :
Participated in numerous major Art Workshops /Camps and Seminars throughout India and Expert member / Observer / sponsored by U.G.C. / Govt. of W.B., Govt. of India / University or reputed organizations, since 1976.
COLLECTIONS :
Lalit Kalka Akademy, New Delhi, Gallery of Modern Art – Mumbai, Birla Academy of Art & Culture, Kolkata, Defence Head Quarters, Govt. of India, Senate Hall, university of Calcutta, Plazza Del Comune, Perugia, Italy, India house, London and many more.
TEACHING EXPERIENCE :
Serving as a Teacher in painting , Govt.College of Art & Craft. Cal. Since 1982. In this period served as H.O.D of Painting for 14 years and Served as Officer-in- Charge ( Acting- Principal) of the same College .for 3 years .
EXPERIENCE IN THE FIELD OF SPECIALIZATION :
In last 26 years of teaching, had to go through various type of academic as well as administrative activities, e.g. Chairman / Member of BOS / Examiner / paper setter / moderator in visual art of C.U., R.B.U, Visva Vharati, BHU, Assam University, Berhampur University etc. Convener of Ph.D.Committee in Visual art, Calcutta university.
RESEARCH :
Guided National Cultural Scholars in painting as a Supervisor. Research Scholars guide for Ph. D. Degree in Visual art , C.U.
PUBLICATION :
Published numerous valuable articles on visual art in popular Journals & Magazines.
WEB PAGE:
http://www.calcuttayellowpages.com/adver/108648.html
Tags: Life Long Learning