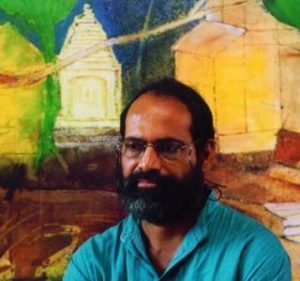 When I entered the college Prof. Ramlal Dhar was the first teacher I met. He taught us for two years.
Students used to know him as a very strict person. But he has a true heart of an artist. He cant hide his emotion. He was a person who can express his unlikeliness without hiding it and can show his happiness like a child also. People find him a little unpredictable sometimes.
His ironic discipline pulled the best out of us. What we were really needed at the early stage of learning is technical things. He always
told us to focus on detailing and perfection. Sometimes it was painful but it made our base stronger. It was hard to satisfy him.
A very few of us experienced a real soft part of him. I was again happy to be one of them. It was his care and affection that encouraged me. I remember all the nice time we had with him. In those two years whatever he taught me will be with me for lifetime.
He was a scholar and traveled around the world. It was a real pleasure to learn from a person like him. He was conscious about his success but never liked anyone to lower their head in front of him. May be this is the reason why he never liked the ritual of touching feet( Indians do it to show respect). He has to say " you don't need to touch my feet to show me respect, respect comes with the behaviour". An unique person, an unique teacher, an unique soul. I miss him a lot. It is a upsetting news that he passed away on 14 July 2010 late evening rfter suffering long time form Cancer. It is so very depressing that I will not hear his voice again, as he always did ….." Dipanwita, what are you up to ?" What a pity!
1968 – '77, GOVT. college of Art & Craft, Calcutta.
1970 – '77. Atelier of Atul Bose
1978 – '80, Ecole Nationale des Arts Decoratifs de Nice (France)
1978 – '84, Stayed in France as a Muralist Since 1985 teacher at the Govt. College of Art & Craft, Calcutta
SOLO EXHIBITIONS: INDIA & ABROAD
1973 Shantiniketan, Guwahati
1979,'83 Nice
1980, Milan
1981,'84,'92,'99 Calcutta
1983 Cannes
1984, Marselles
1994,'96,'99 New Delhi
1999 Pondicherry
SELECTED EXHIBITION PARTICIPATION
1973 Since '73 All India Exhibition, Birla Academy, Calcutta
1978 Joint Show, Vicy (France)
1979 Exhibition with French Artists, Alliance Francaise de Calcutta
1979 Renowned French Artists, Nice, Shereton Hotel, Paris
1981,'82 Maison des jeunes et de la culture de Nice & B.N.P.
1983 8e Biennale of Mediterraneenne (France)
1983 Musee municipal saint paul de vence (France)
1985,'86,'87,'92,'94 National exhibition of Art, Lalit Kala Akademy
1988 "Young faces", Birla Academy, Calcutta
1989 "Human Rights", Artists of Bengal, Calcutta
1990 Third Bharat Bhavan Biennial
"Mosaic" – Calcutta, Delhi, Bombay
300 years of Calcutta, Birla Academy
Bengal Art Today Jehangir Gallery & Hyderabad
1991 "Artists against Communalism – Images & Words", Delhi
1992 Silver Jubliee Exhibition, Birla Academy, Calcutta
"souvenirs D'en france Embassy, New Delhi
1993 Joint show with Sohini Dhar, Sarala's Arts centre, Madras
1994 Bharat-Bhavan, Bhopal
1995 Indian Contemporary Art, Tokyo; Aurodhan Show, N.Delhi
1996 Group show, Jehangir Art Gallery & Birla Academy, Mumbai
1997 Charukala utsav, Calcutta; Landscape show, The gallery Madras
1998 Gallerie la mere Calcutta
1999 "Art for the Spastics", Auction at Chennai; Benson & Hedges show at Shakshi Gallery & Gallerie '88
1978 Vichy, Centre Valery Larbaud
1981 Nice, Maison des jeunes et la Culture (Magnon)
1983 Musee municipal St. Paul de Vence (with David Fu)
1982 Nice, B.N.P. Boulevard Victor Hugo (with David Fu)
1983 Be Biennale of Mediterranean (France)
Numerous Exhibitions in India and Abroad.
COMMISSIONS & COLLECTIONS
Frescoes and Murals on the premises of the Govt. College of Art & Culture, Calcutta Mosaic for the entry hall of the post & telegraphs; building on avenue de la californie Nice. Mural paintings for Centre des Oeuvres Universitaires et Scolaires, IS Avenue des Fleurs, in Nice.
Murals in the foyer of University hostel "Jean Medecin" in Nice. Mosaic on the surrounding wall of the humanities department, Nice University Mural painting in the cafetaria at the University restaurant of Toulon. Mural painting at Maison des jeunes et De la Culture de Nice (Magnon). Mosaic & Mural painting for Mr & Mrs Brincat, quartier de rimiez Nice. Mosaic & Mural painting for Mr & Mrs Bouchet at VilleneuveLoubet Ceramics & Mosaic for Mr & Mrs Rosso at Mougins. High Court, Cavilam (Vichy) Rennault Cannes Succursale Sarala's Art International, Madras And in many private collections in. India and Abroad.
Frescoes, Mosaics & Mural Painting at Public and Private Building at Calcutta, bakreswar, Rourkella in India and Nice, Toulon, Villeneuve – louvet, mougins in France.
ARTIST CAMP / WORKSHOP / SEMINAR
1971 Workshop at American University Centre
1978 Max Muller Bhavan, Calcutta
1989 Bharat Banga Saahitya sammelan, Silchar
1990 "A mo of Arts", Alliance Francalse, de Calcutta & Regional Seminar on Art, Rashtriya Lalit Kala Kendra.
1991 All India Artist Camp Gwalior
1992 "Confluence", Indo – French Artists camp Calcutta
1993 West Bengal Artists camp, Information centre, Calcutta & workshop on conservation & preservation, Birla Academy Calcutta ceramic mural camp, Lalit kala Kendra, Calcutta
1994 Workshop on conservation & preservation, Birla Academy, Calcutta
1995 UGC workshop, Santiniketan
1996 Artists camp Varanasi
1997 Indo- Bangladesh camp, Calcutta
1998 All India Artists camp, TATA STEEL, Jamshedpur
1968 -'73 Assam Govt. Scholarship
1971 -'74 Art College Award
1975 -'77 National cultural scholarship in mural painting under Sri Ganesh Halor
1977 Oriental society of Art, Calcutta
1978-80 French Government Scholarship in Mural & Mosaic under Prof, Baudiniere
1980 Best prize for a poster (Lions club), France.
MEDIA EXPRESSION FRANCE & INDIA
Documentary film by French Television
Documentary film by prof. Yaves Charney (France)
Several Interviews in Radio France on art
Several Interviews in All India Radio & Doordarshan Kendra, Calcutta
National Gallery of Modern Art, Lalit Kala Academy, Delhi College of Art, Calcutta High Court, Cavilam (Vichy); Renault cannes succeursale, Tata Steel, Benson & Hedges, Bharat Bhavan, Bhopal, SCZC Centre, Calcutta Information Centre and many private collections in India & Abroad.
Extensive travel in Europe, U.S.A & Mexico.
Tags: Life Long Learning
One Response to " A very strict teacher by heart: Prof. Ramlal Dhor "